Coordinator works to keep students away from drugs
WELLS — You don't know what you don't know, and sometimes that lack of knowledge can have disastrous consequences.
United South Central Planning and Implementation Coordinator Aron Welch has been tasked with planning activities in the community to change the environment, and then implementing those strategies with the ultimate goal of preventing substance abuse.
Part of his job is correcting misconceptions in the community about the prevalence of underage drinking and drug use.
Welch said the misperception is that most high school students drink alcohol and that's the norm. In truth, an independent study done by a third party showed 88 percent of United South Central students do not drink and it's important for teens to know.
According to FariCARES, a nonprofit organization Welch works closely with, data proves that students who incorrectly perceive that most students in their school drink on a monthly basis or more are 6.9 times more likely to drink.
That's one piece of information Welch feels is dangerous to withhold from teens who sometimes distort what they view as normal based on the actions of their own social groups.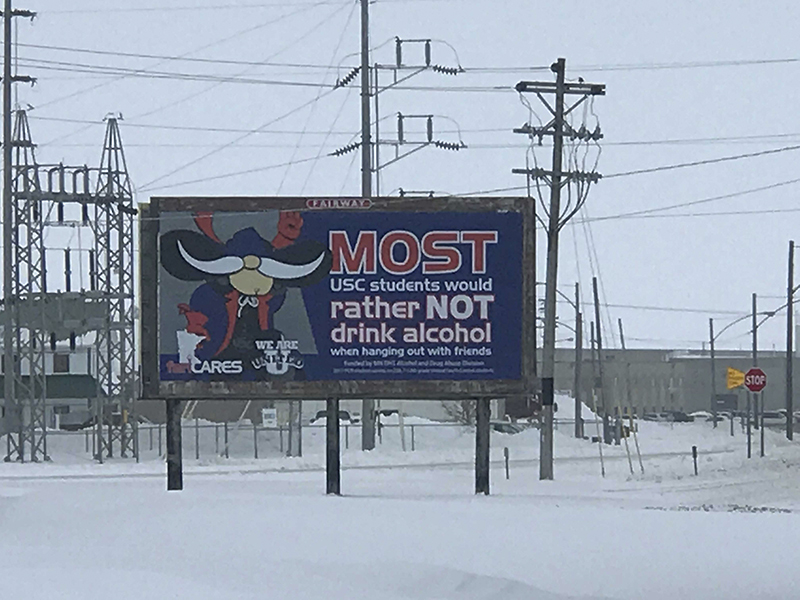 He also said when students experiment with alcohol sooner, there is evidence-based data that suggests they will be more likely to have a problem with alcohol usage when they are older. Furthermore, when the number of teens who drink alcohol go down, the number of teens who experiment with other drugs dips as well.
A grant through the Minnesota Department of Human Services Alcohol and Drug Abuse Division funds Welch's position for the time being, but the funding will expire in a few years. As a result, he is working toward developing activities at USC that will be sustainable.
Welch, along with USC faculty members Barbara Roberts and John Soucheray, supervise two student groups — one of students in seventh to ninth grade and another of sophomores to seniors — who plan student-led activities, which includes a lip-sync battle and outdoor viewing of the movie "The Sandlot" during Wells Kernel Days.
By developing the groups, Welch hopes the positive influence will remain and be self-sustaining, even if there comes a day when his job is eliminated.
Welch is a graduate of Winona High School, where he was a year-round athlete. When he went to college at the University of Minnesota in Duluth, he decided he wanted to focus on academics over athletics. He received his Bachelor of Arts degree in public health education and promotion in 2014. He worked in two different school districts in different positions before coming to USC.
He currently lives in Albert Lea with his fiancee, Angel Pingry, who is a ninth-grade English teacher at Albert Lea High School.